Doug Shields, boy wonder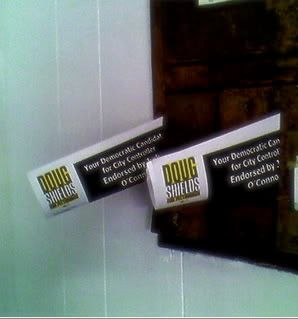 I came home last night to find this Shields literature lined up very nicely in the vestibule mailboxes of my building.
You may be saying to yourself, wait, isn't that what the French call le grande non-non? Big trouble can be caused by putting something that is not the mail into a mailbox. Well, true, but sorry, Tony Pokora, those mailboxes are a vestigial feature from an earlier time in my building's history, and the acutal U.S. Mail ends up elsewhere.
Anyhow, Doug identifies himself as the City Council President, which is a good idea given the sterling reputation of the council. He also promises to "Hold politicans accountable for how they spend our tax dollars [strange use of boldface in original]." I am sure that he would never, as controller, let a council get away with, say, refusing to discuss a payoff relating to an abusive police officer who remains on the police force. Nor would he truck with a councilors who would vote for a resolution to ruinously refinace the city's long term debt.

But the stuff about what he would actually do as Controller is way down at the bottom of the flier. At the tippy top, visible in the photograph, is the excessively capitalized sentence, "Your Democratic Candidate for City Controller Endorsed By Judy O'Connor." Doug goes out of his way to prove to everyone that Lukey Ravenstahl is not the only local politician who is not above using the memory of our martyred hero-mayor Bob O'Connor, seen here reminding us that Onoroto always looked like a goober until he started standing next to Lukey, to further his own political ambition.
Can there be two posthumous sidekicks to Supermayor? If so, Doug probably deserves it more. He was Bob's chief of staff for more than a decade.
I am not saying that Mayor O'Connor wouldn't have supported Doug: I am sure that he would have, and energetically. Doug was Bob's man, after all. I am just saying that this is in poor taste. Also in poor taste: the presumption of the Shields camp in naming their website www.pittsburghcontroller.com, as if they had already won.