When tiny giants collide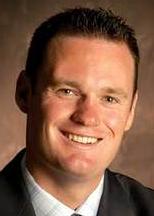 As I mentioned the other day, city council president Doug Sheilds, seen here soliciting free dental advice, who is running for city controller, is doing his best to claim the mantle of our martyred hero mayor. I alluded in my previous post to a few spots where Doug's record indicates that he might not be the best choice for an office intended to "assure that City residents receive the best products and services for their tax dollars." His qualification problems aside, he might win. What then?
Luke Ravenstahl, seen here realizing that the girl he made out with at the bar in New York had an adam's apple, is almost certain to be eleted to the mayorship, an office he already holds without mandate. He, too, claims the legacy of the martyr. He also has a well-documented chilly relationship with truth and ethics.
With both the mayor and the man who is supposed to be keeping him honest running almost entirely on the legacy of the same fallen giant, I forsee a few possibilities.
First is that everyone acts properly, government becomes both efficent and transparent, and we enter a golden age of city governance. I am not really holding my breath for this one to come true.
Second is that Luke and Doug join forces and use their combined power to do whatever they want, funneling money here and there with as little oversight as they can manage. If they do this they will together forever tarnish the reputation of the man they both claim to emulate.
Third is that they will oppose one another eventually. My guess is that this will happen on the first day Doug brings either his ambition or conscience to work, and I hope it will be early. Then municipal government will have as its background theme, for a while at least, the battle for the legacy of quondam mayorii, mayorque futuris. Who will win?
Luke has an enormous store of goodwill on his side, but he is spending it rapidly. Doug, as Controller, would have the benefit of being able to take the high ground much of the time: after all, that is the controller's job. Plus Doug has a real Bob tie: he worked for the guy for years.
Doug has Mrs. O'Connor in his corner, Luke has one of the O'Connor sons (appropriately, I suppose: the ambitious and unproven offspring of luminaries might be expected to stick together). Doug's support appears to come from real emotional ties, whereas Luke's may be more opportunistic. If young Corey O'Connor is serious about running for council he is unlikely to keep himself tethered to a mayor determined to shoot his own feet off.
If things go ill between Luke and a future Controller Doug, I confidently predict Doug takes the O'Connor legacy, carries it down a flight of stairs in the City-County Building, and displays it, undivided, in a shiny glass case.