Ruth Ann Dailey has completely lost her mind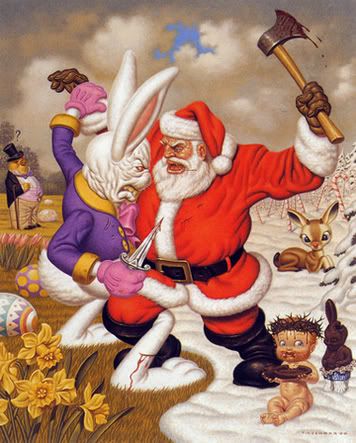 Today's attempt by Ruth Ann Dailey to ruin Harry Potter for everyone by pretending it is actually about her own favorite fictional character, Jesus Christ, contains this mind-boggling paragraph:
Not everyone in our social circle shares our enthusiasm. Some evangelical Christians reject J.K. Rowling's books because they fear — pretty unreasonably, I think — that the books' fictional world of witchcraft will desensitize impressionable young souls to the real, and destructive, thing.
That's right: Ruth Ann Dailey thinks that witches are real. Not only that, but she is raising her children to believe the same thing.
If there has ever been a better argument for the confiscation at birth of the children of religious believers in general and evangelical Christians in particular, I haven't seen it.
Another disturbing aspect to this: it is being discussed in Ruth Ann's "social circle." This means that there are other adults out there who are unembarrassed to sit around with their friends discussing the likelihood of a series of childrens' novels tempting their progeny into deals with Satan, and no one among them with the brains to point out that witches, Satan and Jesus Christ ARE NOT REAL.
Seriously. It is the twenty-first century now.