Salad danger past, kitty danger ramping up
Twanda Carlisle, seen here being targeted by a terrorist, tells the Post-Gazette:
That was yesteryear. In 2007, cats are more aggressive than they used to be.
Thank goodness there is finally someone who is willing to speak the truth about the meteoric rise in cat-related violence over the past few years. Once, cat gangs seemed quaint and mostly harmless, but younger felines keep pushing the envelope.
Dr. Dre's seminal 1992 album The Chronic first drew America's attention to rising cat on cat violence, fueled by an increased flow from post-Soviet Afghanistan of high-quality catnip, known on the street as "purr dust." The problem was shunted to the side in favor of high-visibility campaigns against Dre's "obscene" lyrics:
Who's the man with the master plan?
A kitten with a motherf***ing gun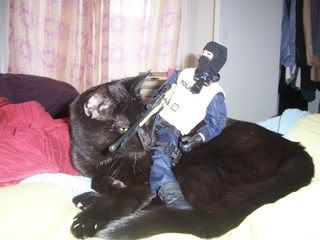 Congress only exacerbated the problem with the repeal of the Feline G.I. Bill as a budget balancing measure in early 2004. The result has been a flood of disaffected Felis silvestris catus in our streets, highly trained for combat but without prospects for education.
As a result, many of America's felines, including decorated heroes of the Iraq war, have landed in prison or been forced into pornography or prostitution.
Despite the intervention of religious leaders, this problem has continued to grow. It is a good thing one of our elected officials is finally ready to step forward and deal with the gangs of criminal felines in our streets. After all, as Dr. Dre said in the follow up to The Chronic:
Mister Kitty Mittens got a shotgun
and he ain't even strong enough to cock one
F*** tryin to job hunt
Kittens got AK's, kittens is way crazier
than Dre was back in his N.W.A. days
Kittens spray strays and shoot without lookin
Thanks to Bram and the Burgher for writing about this earlier today.