Make Room for Crazy
A lot has been going on lately, but I would like to call your attention to a really cool charity event going on: Make Room for Crazy.
It works like this, two local bloggers are betting on the Pirates.  Michelle from Burgh Baby is betting that the Pirates will not break .500 this year, and Ginny from That's Church is betting they will.  Prizes are being collected as we speak, and the winning blogger will donate 75% of the money to their charity, the other 25% going to the other (Either Make Room for Kids or Christmas Crazy for Kids).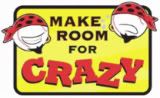 Here's more detailed information, as well as links to donate to either side (pick one, and enter as many times as you want, $5 gets you an entry).
I voted No by the way, not that I'm trying to influence you at all, I'm just going off of, you know, history.