Mayor Tom Murphy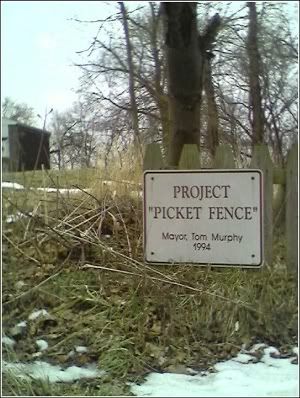 In 1995 the Post-Gazette had this to say about Tom Murphy's "Picket Fence" program:
Begun last summer, Project Picket Fence cleared trash and weeds from about 80 vacant lots, then strung picket fences along the fronts and sometimes the backs of the lots. The fences showcase lots available for sale. Community groups — 19 of them so far — have pledged to maintain the lots.
The mayor wanted to expand the program this summer, but City Council balked when it learned that in some cases, the weeds had grown back taller than the fences. So far, there are more lots than groups committed to maintaining them.
Then most people quietly forgot. Wandering through Garfield today I came across a relic of Tom Murphy's program, seen here rotting in obscurity. It functions as an unfortunate metaphor for Tom's mayorship: what began in solidarity and optimism is now sqalid, weed-choked, and sad.