DeSantis "Policy Team"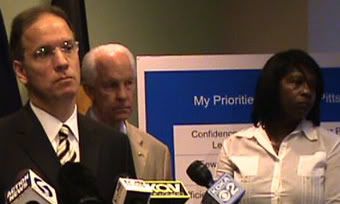 And a happy-go-lucky crew they appear to be.
I have been accused to using unfair pictures on this weblog before. I want to point out, before anyone accuses me of getting this awful photo from Luke Ravenstahl's campaign office, that this is the picture Mark DeSantis saw fit to use on his website to accompany his press release about this event.
Not only did he use a photo that made him look like the captain of the world-champion Pittsburgh dourness team, he also chose a policy group made up, according to the Post-Gazette, of this disturbing mix:
Two of the seven policy committee chairpersons live in the city, and three are Democrats.
Good choice, Mark. I am sure that city voters will be happy to know that you are 2/7 interested in what people who live in Pittsburgh think. He also explained why he has gotten to this point, two months before the election, without having made any specific policy proposals:
He said the challenges of reviewing prior reports, getting updated information from the city, and carefully crafting policy have slowed the process of unveiling policy planks, but proposals will be coming soon.
"I've been writing legislation and writing policy of all kinds" for many years, said the government and business veteran. "And you don't take the souffle out of the oven before it's ready."
I can't really see how someone would decide to run for mayor with so vague an idea of what he wanted to do that he would still have no policy proposals two months later. He didn't even present any today: he just paraded out the sad-sacks who will be helping him decide what those proposals will ultimately be, whenever they get around to writing them.
What he did present was a cavalcade of Orwellian committee names. The Committee on Bridging the Cultural Divide will no doubt be spending a couple of weeks puzzling about what they are supposed to be doing with their time. They will have it easy compared to the Committee on Restoring Confidence in our Leaders, which will have to reconcile their dual dedications to restoring confidence in our leaders and getting them voted out of office. Compared to that one, the Committee on Sustainable Economic Development seems like a piece of cake.
The DeSantis campaign, which despite early hype lacks a muscular street program, grassroots support to speak of, the imagination to do anything other than pile on when their opponent screws up, and, still, any proposals for policy or legislation, is on track to be Pittsburgh's biggest disappointment since three dozen costumed sci-fi fans waited for hours in line to see the midnight show of The Phantom Menace at the Manor.