New York Times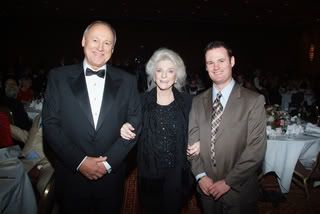 Richmond Turner drew my attention to a story in the New York Times about our beloved child-mayor, seen here failing to own a tuxedo. Among the revelations, apparently the city at large cuts Luke Ravenstahl a lot of slack.
"I like him because the city runs," said Eliza Wiles, 54, waiting for a bus several blocks from City Hall. Ms. Wiles added that she could not care less that the mayor was younger than her son or that Mr. Ravenstahl wore flip-flops on a plane to Los Angeles — an episode that drew criticism.
Somehow I didn't hear about this airplane thing, but I am one hundred percent in favor of summary capital punishment for the wearing of flip-flops in public, and being an idiot frat boy is no excuse, The mayor's punishment is worse than death, though:
For a mayor of this city, not attending Steelers games is like a Southern grandmother skipping church. But that is exactly what Mayor Luke Ravenstahl says he plans to do until the mayoral election on Nov. 5.
He says he can't stand being "hounded by the press," by which he must mean this episode, as I can't imagine comfortable plebeian Rich Lord is following him around while he drinks beer with girls in Hines Ward jerseys. Whatever person the "press" takes in this instance, they are asking the important questions:
"I have a thicker skin now, but I'm also more careful now," [Ravenstahl] said. Shaking his head, he added, "But asking whether I paid for my own seats at the Steelers game and requesting for me to show the hot dog receipts still seems ridiculous to me."
While I have no idea who was asking Luke about hot dogs, if that person is a reader of this weblog, you can find more information on hot dogs here.
It was clever what Luke did here, by implicitly equating asking for hot dog receipts to asking who pays for the Mayor's many perks, thus making his critics seem absurd to anyone who isn't paying close attention.
There was also some insight into the Mayor's excellent performance in the Great Race:
Instead of drinking coffee, he keeps his energy up with help from 12 Diet Pepsis a day. "That might be catching up with my nerves," he said, pointing to a pile of bottle caps on the floor of his car. To clear his head he has taken up running three times a week, he said.
Nothing like a little training and a blood-stimulant concentration that rivals Studio 54 in 1982. Go "Speedy" Ravenstahl!
Not appearing were quote machine Bill Peduto or, oddly, any of the people running for mayor against Speedy. Former Steelers mascot Doug Shields pops up to share some mild criticism and snarky bastard John McIntire makes the impertinent request that the Mayor of Pittsburgh be expected to "act like an adult," which, coming from McIntire, I think also qualifies as mild criticism.